6 Practical New Year's Resolution for Dog Owners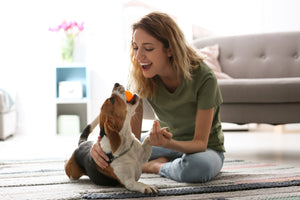 Have you ever thought that perhaps you aren't the only one who needs to focus on a healthier diet, losing weight, or working out more? Maybe your dog could also benefit from your new year's resolution! So although we are halfway through January already, it's never too late to start and set some goals for the upcoming year for your dog. Here are 6 practical suggestions.
Schedule an Annual Exam
Just like humans, it is so much better to catch your dog's health issues early on & treat it than to head to the doctor's when your dog's condition is severe and harder to treat. So make sure you take your dog for their annual checkup. Also, a good factor to remember is that dogs age faster than humans, so taking your dog for an annual checkup is equivalent to a human going to the doctors once every 6 years. Don't wait until your dog is actually sick or in pain to call the vet. When you're at the vet, make sure that your dog up to date with all vaccine shots he needs to stay healthy and to fend off ticks & fleas.

Make Doggy Diet Adjustments
It might be time to consider adjusting his daily intake based on his current weight, age, & health. As our dogs get older, you may need to cut back on the amount of treats and scraps you share with them on a daily basis. According to the Association of Pet Obesity Prevention, more than half of dogs are overweight! Excess fat negatively impacts your dog's health and longevity. In fact, they are more prone to heart disease as well as joint issues. So make sure you are measuring your pet's food accurately to prevent overfeeding.
Get More Exercise
Just like humans, your dog can't rely on diet alone to maintain a healthy body or lose weight, they need to stay active too. So schedule a set time to go outside for a walk around the block or at a nearby park. Is the weather outside not looking too good? No need to fret. You can still keep your dog active with some indoor activities. You can check out this blog, How to Entertain Your Pup Indoors, for some great indoor fun that's sure to help keep your dog mentally & physically healthy!
Teach Your Dog a New Trick
Sure, teaching your dog a new trick could make him the star at your nearby park. However, these dog tricks do more than just entertain. When you take the time to train and use rewards such as treats or affection to teach your dogs, it can help build up your relationship with your pet while also giving him the mental & physical stimulation it needs to stay healthy!
Clean Your Dog's Accessories
When was the last time you washed your dog's leash, bed, and collar? Or rinse out your dog's food & water bowl? Keeping your dog's eating area & accessories clean can help prevent your dog from getting in contact with infectious bacteria. Just think about it. You wouldn't want to be eating out of the same dirty plate after a year, let alone after a day. So make it your new year's goal to also regularly schedule time to clean your pet supplies. It is highly recommended that you wash your dog's bed, collars, & leashes at least once a month and their water & food bowls at least a few times per week.
Regular Doggy Grooming
We often wash ourselves & cut our hair to make sure we look good and so that we are clean & healthy. Our pets require just the same type of routine care as we do. So make it your goal this year to schedule regular grooming for your dog to maintain their healthy fur and skin. We also recommend throwing in a healthy supplement treat, such as Petaxin Omega Care, as an extra perk to help your dog maintain soft, healthy fur. It is recommended to bath your dog every two weeks (not too often as it could cause dry skin & dandruff) to keep your dog's fur clean & healthy.
These are just a few suggestion you can implement in your new year's goals for your dog this upcoming year. Feel free to think of more goals to set & implement for your beloved fur babies. We hope that your dog will live a long & healthy life!