7 Dog Care Tips for Spring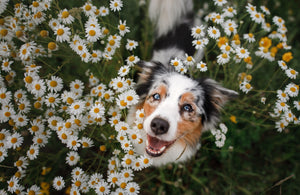 Spring is finally here, and as a dog owner, it's important to make sure your furry friend is ready for the season. With a little bit of effort, you can help your furry friend transition smoothly into the spring season. Here are seven dog care tips to keep in mind:
1. Check for Parasites
First and foremost, it's important to check your dog regularly for parasites. Springtime brings an increase in fleas, ticks, and other parasites, and it's important to catch them early. Parasites can cause health issues, from skin irritation to serious diseases. Talk to your veterinarian about preventative measures, such a medications which can be applied topically or given orally, 
to keep your pup healthy and safe.
2. Grooming
Grooming is essential for keeping your dog comfortable and healthy during the warmer months. With shedding being more common in the spring, it's important to brush your dog regularly to remove dead hair and prevent matting. This will not only keep your dog looking their best, but it can also prevent skin irritation and hot spots. A bath and nail trim can also help your pup look and feel their best, but be sure to use a shampoo that is specifically designed for dogs, as human shampoos can cause irritation and dry out their skin.
3. Update ID Tags
It's also a good idea to update your dog's ID tags in the springtime. With more time spent outside, there's a higher risk of pets getting lost. Even if your dog is microchipped, a visible ID tag can help ensure a faster reunion. Make sure your dog's ID tags are up-to-date and legible. It's also a good idea to have your dog wear a collar with reflective material to increase visibility, especially during early morning or evening walks.



4. Outdoor Safety Precautions
As the weather warms up, it's important to keep your dog safe while enjoying the great outdoors. Make sure your dog has access to plenty of water and shade, and never leave them in a car on a warm day. Dogs can suffer from heatstroke, which can be fatal, so it's important to be aware of the signs, including panting, drooling, and vomiting. If you suspect your dog is suffering from heatstroke, seek veterinary attention immediately.



5. Check for Allergies
Just like humans, dogs can suffer from seasonal allergies. Keep an eye out for signs of itchy or irritated skin and talk to your vet about possible allergy treatments. Your veterinarian may recommend medications to manage your dog's allergy symptoms. Additionally, you can also help your dog reduce allergy symptoms with supplements such as
Petaxin Daily Probiotic
. This delicious soft chew for dogs helps control inflammation to alleviate allergy symptoms such as rashes and itchy skin. 
6. Exercise
With warmer weather comes more opportunities for exercise and playtime. Make sure your dog is getting enough exercise to stay healthy and happy, whether it's playing in the backyard or going on a long walk. Exercise not only helps your dog maintain a healthy weight, but it also helps them release energy and reduce anxiety. Just be sure to adjust your dog's exercise routine gradually to prevent injury or exhaustion.



7. Spring Cleaning
Finally, a thorough spring cleaning can help keep your home free of allergens and parasites that can affect your dog's health. Vacuuming regularly and washing your dog's bedding can help reduce the risk of infestation. Be sure to also check your dog's toys, food and water bowls, and other items for signs of wear or damage, and replace them as needed. This will not only help keep your home clean and fresh, but it can also help keep your dog healthy and safe.



From preventing parasites to keeping your dog safe outdoors, you can help your furry friend stay happy and healthy this spring season.