What Your Dog's Sleep Pattern Says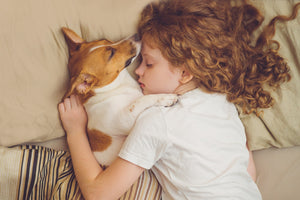 A dog's sleep pattern is similar yet quite different from that of humans. So you don't need to be too alarmed if your dog's sleep cycle does not align with yours. Read on to learn more about your dog's sleeping habits and what they could mean.
How Much Sleep Do Dogs Need?
First of all, dogs actually sleep far more than humans. In fact, they may sleep an average of 12 to 14 hours a day. During their puppy stage, it is not uncommon for pups to sleep up to 20 hours a day. Older dogs also require more sleep as they may get tired easily. In addition, depending on the type of dog, size, age, and overall health condition, each dog has their own particular sleep needs. For example, working dogs tend to be more active and sleep less, whereas sedentary dogs may sleep more throughout the day.
When Do Dogs Sleep?
Dogs can sleep anytime of the day, however you may notice them sleeping more at night. However, they have a flexible sleep schedule, so they may wake up when you are home and around so that they can spend as much time with you. That is why you may notice them sleeping at night when you're sleeping for about 7-8 hours. The extra four or so hours that they need they may make it up during the day while you are away at work or take short naps when you are too busy to give them as much attention.
Dog Sleep Patterns
Dogs usually spend most of their sleep time in a ready to be alert mode. Sleeping lightly is very common for them so that they can wake up at a moment's notice in case they need to hunt for game or defend their owner/pups. Dogs only spend about 10% of their sleep time in REM, so they will need more time to get the rest they need. In addition, dogs can go in to REM faster than humans. If you notice your dog bark, move their feet, or twitch their eyes as they sleep, your dog is probably just dreaming.
Normal Sleep Schedule
What is a normal sleep pattern for dogs? Well if you see your dog sleeping a lot, don't fret, that's normal. To help support your dog's healthy sleep pattern, make sure to schedule them for regular vet checkups and to eat a healthy diet. Make sure you also provide your dog with a good environment to sleep in at night. Their bathroom needs and food needs should be taken care of prior to bedtime so that they are able to go to sleep with no concerns. Investing in a good sized bed is also important so they can sleep well. If it's too cold at night and your dog's bed is thin, your dog may be very uncomfortable or too cold to sleep well at night. Make sure your dog's bed either has a thick enough cushion or is raised off the floor and if needed, you can also get your dog a small blanket that he can snuggle into.
If you notice anything super unusual in regards to your dog's sleep schedule, inform your vet to rule out the possibility of an illness.