How to Train a Dog Not Motivated by Food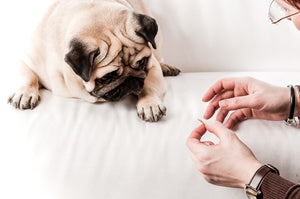 One of the simplest ways to train your dog is to offer them something they want in return for the behavior you are trying to train them to do. In most cases, treats are the most effective. But what happens if your dog isn't motivated by the treats you are offering it? Read on to find out possible reasons why your dog is not interested in treats and tips to train your dog.
Why Won't a Dog Want Treats?
There could be several factors that can cause a dog to not want treats. Having a better understand of the possible reasons can significantly help with your dog training.
1. Your Treats Aren't Tasty
Maybe the treats you are offering your dog is actually not as good as you think they are. Or maybe they don't taste good to your dog. What one dog enjoys eating may not be what another dog enjoys, similar to humans - we all have our own taste preferences as to what tastes good to us. Dogs have a preference as to what tastes bad to them and may pick up a treat only to drop it on the floor after having a quick taste of it to show their disapproval.



2. Your Dog is Training You
In addition, your dog could actually be training you to offer them a tastier treat. Dogs are actually very smart and one of the ways they show you that they don't like something is to not accept it. If you have a habit of offering your dog one treat and then following it up with a better treat, your dog will think that as long as they hold out, they can always get something better. If you begin to notice this habit, you should stop increasing how good the treat you are offering is. If they don't want the treat, simply take a break from the training and resume later with a better treat. Once you know what kind of treat your dog likes, use that as the default treat for each training session.



3. Your Dog is Overweight
If your dog is already overweight then they may not really care about any treat you offer it. A dog that is overweight is probably already treated too well. Using more food to try to train it is not a great solution. Instead of offering your dog more treats to train them, opt to cut down the amount of food you give your dog. You can check with your vet to see what is a healthy weight for your dog considering his age and health. Once you cut down on their food and get them to a healthier weight, your dog may be motivated again by treats.
Train Your Dog Without Distractions
Another possible reason why your dog is not willing to train for treats could be because of the surrounding he's in. Take a look around - are you trying to train your dog at a busy park where there are many other people and perhaps other dogs around? If there is a lot going on around, your dog may be unable to focus on you let alone on the treat. Try to find a quieter location with fewer distractions and then try offering a treat again to motivate them to perform a certain task.
Swap the Treat for A Different Reward
If your dog is still unwilling to perform for treats, it could be that they are just not hungry or want something other than treats. Is there a special toy that your dog loves? Or does you dog prefer snuggles or playtime with you? Use that instead to motivate your dog. Sometimes you just need to be a little creative as to what you use to reward your dog.