The First 4 Areas to Train Your Pup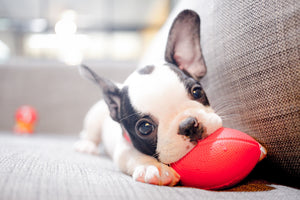 Got a new pup in the house? Don't wait until your dog is all grown up to start training them. You should start as soon as your new puppy arrives at home. How well you train your dog will affect their future personality. Read on to learn the first five basic areas you should teach your puppy.
1. Teach Your Pup's Name
As soon as your dog arrives at home, you should teach him his name to create that connection between the two of you. The purpose of giving your dog a name is so that you can quickly get his attention. Their name is technically a command. It is not difficult to teach your new puppy their name. All you need to do is call their name when your dog is looking at you and make sure to treat them or praise them when they respond. When you frequently respond this way, they will learn their name within a few weeks. Make sure to always use their name in a positive way such as when you want to get their attention and not to discipline them.
2. Potty Training
Puppies of up to 6 weeks old do not have control of their bladders, so it is common for them to have accidents. The entire potty training duration will require added patience and discipline of dog parents. One of the best methods to train your puppy is, after choosing the location you want your dog to do their business in, walk your dog deliberately to the spot when you are sure they want to go. Once they relieve themselves in the spot you have chosen for them, make sure to reward them with a treat or praise. This will reinforce good behavior and routine so that your puppy will always know the right location they should do their business in.
3. Teach Basic Commands
It is important to start teaching them basic commands such as stay, sit, and down. If you aren't sure how to go about it, you can sign up for puppy training classes to make sure you are training them the right way. In this way, your pup will learn the right skills and they can interact with other puppies and improve their doggy socializing skills. Make sure the training process is fun and always reward with a treat or praise when they do it right.
4. Establish Boundaries
Your should clarify your puppy's boundaries in the house as soon as possible. Teach your pup to love their crate or bed and to recognize that that is their space to relax in. You can create more than one area of the house for your puppy to play and rest in. Depending on your puppy, you may need to coax them with treats into their space initially so that they develop a positive approach to the spots you have designated for them to be in. If you don't want your dog on your couch or bed, take them off gently and when they stay off you can reward them. Don't confuse your dog either. If you've taken them off the couch, don't allow them on it at a later time as they will not know what is right.
The Takeaway
Bringing home a new puppy is tons of fun but training can be hard work. However, if you want to make sure your dog doesn't end up with unmanageable behavior issues in the future, you must take the time to teach them properly. We hope that these four tips can help you keep your pup on the right track.