Taking Your Dog Camping? 7 Tips to Make it a Success!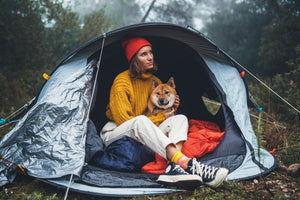 Planning for that upcoming car camping trip? Nothing beats including your furry companion! However, with any trip, it's good to be well prepared to keep your beloved dog safe and sound. Here are seven tips on how you can make your camping trip with your dog a success!
Check Your Car
The first and foremost important thing to check is your car. Make sure that the tires and your battery are in good condition and working well. If you are in doubt and concerned, taking it to the shop for a safety checkup is well worth the time and money.
Make a List
Don't you hate it when you forget to bring something? Well, you could potentially avoid that if you write a to-bring list ahead of time. Make sure you have ample time prior to the trip to think about all the necessities your dog needs to feel comfortable in the car and at the campsite. Just like your human family members, your dog will need adequate amounts of food, water, bedding, and so forth. So write it down and check them off one by one when you start packing for the trip.
Food & Water
Make sure your dog has ample amounts of food and treats, and when in doubt, always pack extra. Regarding water, don't just assume that there will be a clean water supply area at the campsite for your dog to drink. Do your research and if you are unsure that the water is fresh and clean, bring your own stock of water for your dog. In addition, it would do your dog absolutely no good if you brought water but had no bowl for him to drink out of. Although you might somehow find a way around it, to avoid any hassle, just make sure to bring your dog's bowl - one for food and one for water.
Toys
Does your dog have a favorite toy? Why don't you bring that along for the trip? For some dogs, sitting in the car for long hours may cause them anxiety, so having some of your dog's favorite toys on hand could help distract them until you arrive at your destination.

Help Your Dog Relax
As mentioned above, dogs may get nervous when they are in a new environment or when your put them in the car - they may feel nervous because they assume that they are going to the vet. So, to help ease your dog's tension when they're in the car, aside from toys, you can also give them calming supplements such as Petaxin Calm + Comfort Aid, play soothing music, and speak to your dog soothingly. Another great tip is to pull over at a rest stop every now and then for a stretch and to give your dog a short walk. This may help your dog relax and not feel as anxious in the car.
Something Warm
Whether you plan to sleep in the car or outside in a tent, remember that it gets cold at night. So while you may remember to bring sleeping bags for yourself and your family, don't forget that your furry friend could also appreciate the extra help to stay warm at night. Grab a couple of extra blankets and/or your dog's bed so that they can stay warm and toasty.
Be Prepared for the Worst Case Scenario
Just like humans can get lost while camping, your dog could get lost too! Make sure you have a physical copy of your dog's photo (if you can have several copies to hand out, even better) so that you can show the park ranger, local authorities, and those passing by. 

If you haven't already, you can consider microchipping your dog. Although you may be concerned if this procedure will hurt your dog, in the long run, this method can help protect your dog. It will make it a lot easier to find your dog if he ever gets lost, but it can also help the person who finds your dog to identify and bring your dog back to you.
Does your dog take any medications? Does he have any allergies? Make sure that you are well prepared with all your dog's necessary medication just in case there is a medical emergency.
We hope that incorporating these few tips can significantly help you as your plan your next camping trip and that you and your fur bud will have a fun and safe time!