Probiotic for Dogs - How Does It Help?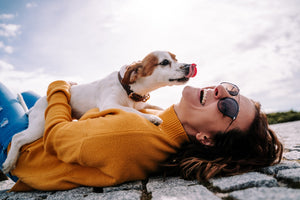 As a dog lover, you probably have a huge interest in keeping your dog happy & healthy. A major part of doing so is by making sure that their digestive system is running smoothly. Just like humans, the bacteria in your dog's gut is essential to their health and when it malfunctions, it may need some assistance, such as probiotics. So what exactly are probiotics and what can they do for your beloved furry friend? Read on to learn more!
What Are Doggy Probiotics?
All dogs have various gut bacteria that help break down food into the nutrients they need and help their body absorb those nutrients. These good bacteria can also help aid in cleaning and maintaining their gut's lining. However, at times, a poor diet or other factors can cause your dog's gut to break down and become inflamed. That's where probiotic supplements come to the aid and help boost your dog's microbial system.
Common Digestive Discomforts
Some of the common ailments that dogs may face when their digestive system is compromised may include:
Diarrhea
Soft stools
Excessive gas
Inflammation
Gastric distension and bloating
If these issues aren't treated, they can cause other more serious issues. Probiotic supplements can help improve your dog's digestive health and address the root issue in their gut.
What Are the Benefits of Doggy Probiotics?
There are several scientific benefits of adding probiotics to your dog's daily diet. Some researchers have found that lactobacillus and bifidobacterium probiotics can help improve your dog's appetite, weight gain, and their immune system. In addition, it seems that older dogs responded even better to the positive effects of taking probiotics. Other research has also shown that probiotis can help prevent diarrhea and help dogs recover faster from episodes of diarrhea.
Why Petaxin Daily Probiotic Supplement?
Our favorite probiotic for our beloved fur buds is Petaxin Daily Probiotic. It is specially formulated with six probiotic strains such as L. Acidophillus, L. Plantarum, and B. Bifidum which can help reduce bad pathogens, diarrhea symptoms, bloating, gas, and help improve your dog's ability to absorb nutrients from the food they digest. In addition, Petain Daily Probiotic includes prebiotic, which is food that fuels the probiotic (good bacteria), and promote digestion while inhibiting the growth of bad bacteria. It is also designed in a dog-approved flavor so that they think of these as treats, making it even easier to feed your dog. Try it today for your furry friend and see a difference in their overall health.