3 Tips To Help Ease Your Dog's Bath Time Anxiety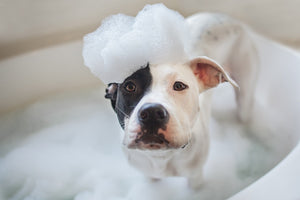 It's that time of the week where you have to give your dog a bath. You have everything ready but your dog is no where in sight. The moment you started putting water into the tub, pulling the towels out, and taking out the doggy shampoo, your dog bolted away. For many dogs, bath time brings them much anxiety. Is there any way to make bath time a more pleasant experience for both you and your dog? Here are some tips you can try.
Move the Bath Indoors
If you tend to give your dog a bath outdoors, that could be one reason why they strongly dislike bath time. For one, the water is probably quite cold, especially if you are giving the bath on a cold day. Think about it, what temperature of water do you like to bath in, even in the summer? Usually somewhat warm water. The same goes for your dog. The water may be too cold for your dog, even if you're giving it on a summer day.
On the other hand, because your dog wants to run away, you probably try leashing your dog and using some method to force your dog to stay. However, that also can traumatize and frighten your dog. That is why moving your dog's bath indoors, such as in your bathtub or sink (depending on your dog's size), can be helpful in allowing you to adjust the water to a temperature your dog likes and would more likely stay put in.
Add a Shower Mat
Another possible reason why your dog hates baths is because of his highly-sensitive sense of touch. Most times, you would give your dog a bath in a tub or sink, however they tend to feel quite slippery when wet. Dogs don't like the feeling of being unsteady on their feet, much like humans too. If you've every experience slipping in the shower or bathtub, it's a painful and even traumatic experience. The same goes for our dogs. So if the feeling of being unsteady on his feet on a slippery & wet floor makes your dog anxious, try adding an anti-slip mat or some towels so that your dog feels more grounded and secure.
Give Your Dog a Good Distraction
Another tip is you can try to make your dog enjoy bath time by giving him a distraction. Make bath time an enjoyable experience for your dog. Does your dog have a favorite toy? Throw it in the tub with him. Smear some peanut butter on the sides of the tub. In this way, your dog will be busy playing with the toy or licking the treat as you give him a bath. In this way, your dog will be too distracted & busy to become anxious about bath time. You can also give your dog another treat after bath time is over so that your dog will link bath time favorably to getting a delicious treat.
We hope these tips can help you and your dog enjoy a better bathing experience!