How to Tell If Your Dog is Healthy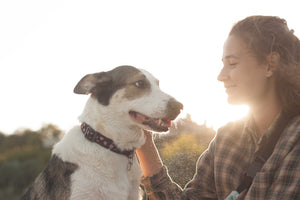 As a responsible dog owner, it is best to have a health check list of things to regularly look out for our dogs. You've heard it before, dogs cannot tell us when something is wrong. Hence, we should be knowledgeable and sensitive to their condition so we will know if they are thriving or something is wrong. Most dogs depend on our vigilance to spot any unusual signs from them. This checklist will help you pickup any early signs of illness or injury.
Check their nose. Examine for any soreness or discharge. No need to worry if their nose is warm or a bit dry, it is a sign that they are eating and drinking normally. You are also looking for a crust-free surface with no runny or thickened discharge or bleeding. If there is anything about their nose that might concern you, get a vet to take a look.
Fresh breath. A healthy mouth is a way in to a healthy pet. A clean-smelling breath and tartar-free teeth are signs of good health. Make it a habit to check your pet's teeth and gums regularly and watch out for signs like nasty smell, tartar build up, redness and swelling of gums, lumps under the tongue. If any of these is present in your dog, have them checked by a vet immediately.
Clean, odor-free ears. Ideally, you are looking for clean ears with no unusual smell, waxy buildup or purulent discharge. A regular cleaning routine is always recommended to maintain cleanliness of their ears, we know they always have the chance to get dirty. If you suspect your dog is suffering from ear infection or have seen any strange sign, schedule a checkup with your veterinarian.
Your dog's eyes. Their eyes should be bright. It is normal for a dog to have small residue buildup in the corner of the eye due to discharge from some amount of tears at times.   However, if you will notice excessive watering, green or yellow discharge, soreness, squinting or closing of one or both eyes, frequent rubbing or pinkish to reddish color, take your dog to the vet.
Shiny and clean coat. A typical healthy dog has shiny, thick and clean coat due to natural oils and shedding. Do a check for any dog skin problem, run your fingers thru their skin, examine whether there are lumps and bumps, rashes, scaling, inflamed areas or evidence of fleas. The coat should be thick with no broken hairs and bald patches.
As part of your health check, keep an eye on their mobility and movements. If you spot stiffness, especially during cold weather or after long periods of lying or sitting down, make a change in their lifestyle. Allow some more stretching of their legs during walks or check with your vet for any recommended joint support supplement and some improvement with their diet plan to help them feel more agile.
Dog's digestion. Watch out for any vomiting, reluctance to eat or loss of appetite. Remember, dogs are unlikely to say no if they are fed more than usual. So if they are showing signs of lack of appetite or vomiting, there could be something wrong. Also be mindful of their number twos. Check the color and texture, it will say a lot. No mucus, any signs of incontinence or blood should be in there. Otherwise, those cases, should be taken seriously.
A healthy dog is a happy dog. One tell-tale sign that your furball is in good shape is if they remain to be a playful and delighted best buddy to you!