How to Identify & Treat Ear Infections in Dogs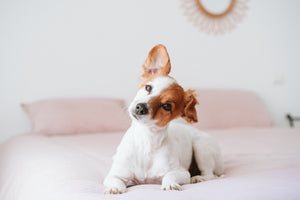 If you've ever had an ear infection, you know it's quite a pain. So are there any signs that can help us determine whether our beloved canine is suffering from an ear infection? Here's a guide that can help you identify and treat your dog's ear infection.
How to Identify Whether Your Dog Has An Ear Infection?
Did you know that ear infections are actually quite common in canines and are also one of the top reasons most pet owners bring their dogs to the vet? According to the American Kennel Club (AKC) abut 20% of dogs get ear infections, especially in breeds with floppy ears. Since our dogs can't tell us directly whether they have an infection, there are certain symptoms dog owners can look out for to spot the problem. They include:
Constant Ear Scratching
Build-up of Ear Wax
Head Shaking
Foul Smell
Discharge from Ears
Redness or Swelling around the Ear Canal
Showing Pain & Discomfort
Itchiness
Scabbing
How to Treat Your Dog's Ear Infection?
You can try the following few steps to help treat your dog's ear infection and to prevent it from happening again:
1. Determine the Cause
Figuring out the cause of your canine's ear infection is the first step to treating them. Once the source is removed, this can prevent the possibility of future infections as well. Some causes for ear infection may include:
Allergies
Hormonal Imbalances
Autoimmune Diseases
Foreign Objects (eg. grass, bugs, exposure to moisture or water)
These are just four of the main possible causes of ear infections in canines. Allowing your dog to be constantly exposed to the source of their ear infection can also negatively impact their immune. Therefore, taking quick measures in determining and then removing the source is essential.
2. Keep Your Dog's Ears Dry
Dogs with floppy ears, such as in breeds like cocker spaniels, are more likely to develop yeast and bacteria growth. To help your dog's ear infection quickly get better, keep their ears dry. When you bath your dog, gently insert a soft cotton ball into your dog's ears to keep their ears dry. Then, take out the cotton balls and gently dry their ears again with a towel.
3. Dog Supplements
Aside from feeding your dog a nutritious diet, giving your dog a boost with supplements can also help dogs with re-occurring ear infections. What supplements can help? Look for dog supplements that contain omega 3, which have anti-inflammatory properties and can help boost their immune. These types of supplements are especially good for dogs that suffer from allergies. Strengthening your dog's immune can also help prevent the ear infections from occurring again. We highly recommend
Petaxin Omega Care
which not only contains 200 mg of omega-3 fatty acids but also Zinc and Biotin to help reduce shedding and improve your fur bud's overall skin health.
4. Regularly Clean Your Dog's Ears
If you haven't already, make sure to schedule a regular routine of cleaning your dog's ears with a dog-friendly and vet-recommended cleaning solution. Simply soak a cotton ball in the solution and then dab it into your dog's ear and massage the base of their ears for about 30 seconds. Try to avoid pushing the cotton into your dog's ear canal to prevent the infection from going deeper into the ear drum.
5. See a Vet
When in doubt, it's always best to still see a vet as they may see a need to prescribe an antibiotic or a stronger cleaning solution to help remedy your dog's ear infection. This is very important especially when your dog suffers from chronic ear infections. If the cause is allergy related, your vet may also suggest allergy shots to help improve their symptoms.