How to Help Your Dog With Separation Anxiety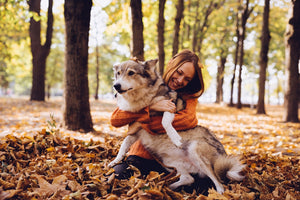 During the pandemic, many people started to adopt or buy dogs to keep them company during the months of isolation. However, as schools and offices started to open up, more and more people are getting out of the house. For your dog, adjusting to this sudden change can bring much anxiety. How can you help your dog cope? Here are some steps you can take.
Prepare Your Dog to Be Alone
During the pandemic, when you're home all the time, your dog may be accustomed to always having you around within eyesight. So, if your dog has never been left home alone, they may be in for a shock once you are away more often during the day. That is why it is good to start now in preparing your dog to be home alone to lower his risk of anxiety.
Short Absence Trials
Train your dog to get accustomed to you not being around them 24/7 by leaving your dog alone for about 10 to 15 minutes. Then slowly up the time in small increments. If you notice your dog is coping well with the situation, you can start increasing the time slowly. If possible, avoid leaving your dog home alone for more than five hours at a time. You can also try to get a friend or close neighbor to help check on your dog when you are away to limit the time your dog is left alone.
Set a Good Schedule
Dogs are also creature of habit. So if you're suddenly out the door and working in the office again and your dog's meal and walking times are suddenly thrown in at random times, this could cause much anxiety for your dog. Make sure to keep your dog's feeding and walking times the same, even when you need to leave the house. If you didn't have a good routine, start training yourself & your dog to have a one set. In this way, your dog knows exactly what to expect.
Provide Adequate Exercise
Before you leave for work, if possible, take your dog out for a walk or play a game with him so that he can get his heart pumping and so you can tire him out a bit. When your dog is tired, he will be less likely to be actively looking for ways to entertain himself when he's at home alone. You're also less likely to come home to a war zone of your dog tearing the sofa out or throwing the trash everywhere. If you can get a friend to babysit your dog while you're away that would be the best, Or you can opt to place your dog at a day care where he can play with other dogs. In addition, there are many ways to keep your dog amused even when you are away. There are chew toys, interactive feeders, and more!
Signs of Separation Anxiety
Most dogs will usually be anxious during the first few times they are left alone, especially dogs that have been adopted from a shelter. You may notice signs such as potty training regression, bad behavior such as chewing up shoes & other items, scratching the door or sofa, digging up the yard, barking excessively, aggression. Do not yell or punish your dog, but give your dog a treat when he doesn't make a mess or relieve himself in the house. In this way, your dog won't assign you leaving the home to punishment which can cause your dog anxiety.
Calming Chews
There are many treats and vitamins out there for dogs that contain calming ingredients. These ingredients help to ease your dog's anxiety and may help soothe them before their trips to the vet, thunderstorms, fireworks, or simply being left alone. Petaxin Calm & Comfort Aid uses natural ingredients such as hemp oil & a blend of soothing herbs to help naturally relax & calm your fur bud within as little as 30 minutes of taking the soft chews.