Hemp Supplements For Dogs? Is it Safe & What Are the Benefits?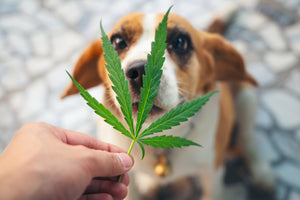 Hemp is becoming one of the biggest health trends for dogs. Why? Well it's because it actually contains a lot of health benefits. But what exactly is incorporated from the hemp plant into our pet's supplement and what are the benefits? Here we'll consider a few points regarding this doggy health trend ingredient.
Is Hemp Harmful For My Dog?
Some dog mom and dads worry if this substance will cause their dog to experience certain side effects like hallucinating. The answer to that is no! The hemp seeds used in many dog supplements do not contain any of the trippy stuff from THC (the psychoactive compound in cannabis that produces the high sensation). CBD (cannabidiol) is actually commonly used to manage various health conditions. Hemp, which comes from the seeds of the hemp plant, is also commonly consumed as a nutritional supplement.
What Are the Benefits?
Although omega from fish oils are great for your pet health, did you know that there are plenty of other great ingredients that can also give your dogs a good boost of omega? In fact, hemp is one of the best sources of omegas out there! It is one of the most naturally balanced ways to incorporate omega into your dog's diet. Some benefits include:
Supports skin health
Supports hip + joint health
Promotes mobility + comfort
Boost healthy immune response
Hemp also contains the ingredient, Gamma-linolenic acid (GLA), which is essential in supporting joint health and other vital body functions. So, if your dog is struggling with allergies, digestive discomforts, skin issues, or mobility, this ingredient included in hemp dog supplements may be just what your furry friend needs.
Another interesting point to note is that hemp seeds are loaded with even more benefits! It is a complete protein source, meaning that it contains all the essential amino acids. It also contains vitamin E and other minerals that can help improve your dog's skin health and boost immunity.
So if you're still on the fence about incorporating dog supplements that include hemp seeds or hemp oil in them, consider all the great health benefits mentioned above!
Thinking about giving hemp dog supplements a try but not sure which hemp supplement to start with? We've got a great recommendation! If your dog experiences stress or anxiety, Petaxin Calm + Comfort Aid is the safe, natural way to help relax and calm your pup. Each chew contains hemp seed oil and various calming herbs that takes effect in as little as 30 minutes and can last for up to several hours.