Dos & Don'ts - Winter Dog Walks in the Snow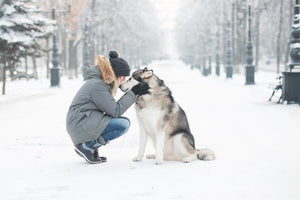 Freezing temperatures and snowy conditions may pose a risk to both humans and dogs. Despite that, our beloved dogs still need their daily exercise to stay healthy. Read on to learn the do's and don'ts of walking your dog in the winter to keep them safe and comfortable.


1. Look for Signs
Every dog breed's ability to handle the cold is different. However, each individual dog is also different, so try to also pay attention to how your dog reacts. They will let you know when they've had enough of the cold. Although you can let your dog play on their own outside in the cold, avoid leaving them unattended for long periods of time, even if you've given them winter shoes and clothes to wear. If you notice your dog whining, scratching at the door, lifting or licking their paws constantly, and/or shivering, these may be signs that they are getting too cold. You should never leave your dog out in the cold for long periods of time without a warm place they can go into.


2. Keep it Short
If the temperature outside is above freezing, your dog may still enjoy their walk. In moderate temperatures, walks up to 30 minutes may be fine for your dog. If they have the right winter shoes and attire, they may enjoy playing outdoors even longer. However, if the temperature is below freezing, you may want to limit their time outside. Instead of taking one long walk with your dog, try taking multiple short walks with your dog to give them the exercise they need while preventing frostbite. Many small, short-haired dogs may show signs of being too cold in as little as 5-10 minutes, so try to keep the walks short.
3. Trim Your Dog
In order for your dog to walk more comfortably in the winter, make sure to take time to trim the hair between your dog's toes. Why? Just like snow can get stuck on the undersides of your shoes, ice and snow can accumulate between their toes, making it difficult or even painful for your dog to walk. Another great option is to cover their paws completely with winter boots. There are many types of dog shoes out there, you can choose one that fits your dog's preferences and the outdoor weather conditions. Having your dog wear winter boots can also protect their paws from drying up or getting damaged from the cold as well as from any ice-melt chemicals.
4. Moisturize & Clean Paws
Make sure to wipe your dog's paws after each walk during the winter. You can use a warm towel or pet wipes to get rid of dirt or any chemicals they may have stepped on during their walks. After you have cleaned your dog's paws, keep them moisturized with a dog-safe moisturizer. The dry winter air can make your dog's paws dry, cracked, and rough. A fantastic natural choice is coconut oil as it is an effective moisturizer and non-toxic for your dogs if they ingest it while licking their paws.
5. Walk During the Daytime
During the winter months, try to schedule your dog's walks during the sunny daylight hours. In this way, it will be warmer for you and your dogs. Since the daylight time is shorter during the winter, walking in the daytime is also safer as you and your dog will be more visible to cars in the sunlight. If you work close to home or work remotely at home, you can try to take them out for a walk during your lunch break. If your schedule is just too busy during the day, ask a friend or hire someone who can walk your dog during the warmer parts of the day.
6. Watch for Frostbite
Sometimes your dog may be having too much fun in the snow to notice frostbite. That is why it is important for dog parents to take the initiative to check your dog's ears, nose, paws, and tails. What does frostbitten skin look like? If it is cold, pale, hard, and it turns red and puffy after it warms up, then it's frostbite. Put a warm towel onto the frostbitten area and try to prevent your dog from touching the affected area. When in doubt, always contact your vet for additional instructions and assistance.

7. Soothe Your Dog's Aching Joints
Just like humans, the cold winter months may cause joint issues such as arthritis to feel worse. If your dog is older, you may want to either keep their walks outside short or consider doing more indoor exercises with them. Another great option is to give your dog joint-supporting supplements consistently, not just during the winter months. Natural dog supplements that include ingredients such as glucosamine and chondroitin can be helpful in soothing your dog's joints. If you notice your dog limps while walking or is having difficulty getting up, try Petaxin Hip + Joint Support. Not only does it contain veterinarian recommended ingredients such as glucosamine and chondroitin, it's also made in a beef flavor dogs simply love!
We hope that the above suggestions can help keep your dogs warm and safe on their daily walks this winter!