Dog Tear Stains & How to Prevent Them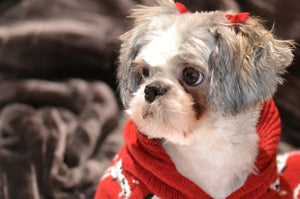 Have you ever noticed that some dogs out there have some reddish brown stains around their eyes? In case you're wondering if that's just a natural phenomenon that occurs on the fur around certain dogs, it isn't. Those streaks are stains caused from their tears. Read on to learn more about tear stains and how you can help prevent tear stains on your own dog.
What Causes Tear Stains?
Tear stains are caused from excessive tearing in the dog's eyes. This can be caused by some kind of irritation in their eyes or if their eyes are unable to drain their tears properly. Just like humans, dog's eyes will start watering when specks of foreign objects or irritants enter the eyes. The tearing process is the body's natural response to try to rid the eye of the irritant. There are small holes in the eyes that normally help to drain these tears, however if there is an issue with the dog's drainage system, the tears could overflow and get onto the skin area underneath the eyes, causing tear stains. The following are some common causes of tear stains:
Viral & bacterial eye/ear infections
Yeast overgrowth
Poor hygiene
Medical conditions (eg. conjunctivitis)
Dust, smoke, allergens, & other irritants
Genetic (eg. large tear glands, small tear ducts)
Poor diet &/or excessive stress
Steps to Prevent Tear Stains
Tear stains are more noticeable on dogs that are white colored. One way to help prevent tear stains on your adorable dogs is to make sure that your dogs are on a healthy diet. Low-quality dog foods may contain too much filler ingredients which can cause excessive tearing in your dog and in the long run negatively affect their overall health. Aside from feeding your dog a nutritious diet, make sure to regularly take care of their hygiene & grooming. Spend some time each day to give your dog proper simple face grooming.
There are tons of good quality dog eyewash solutions that you can use around your dog's eyes. You can also use dry shampoo with a damp towel to wash their facial area. Regularly giving your dog a trim is also important, especially the fur around their eyes. If the hairs around their eyes get too long, they could start irritating your dog's eyes, causing them to tear up. Incorporating antibiotics, probiotics, and enzymes in your dog's daily diet can also help. Probiotic can help prevent the buildup of yeast and bad bacteria. You can try Petaxin's Daily Probiotic which incorporates six probiotic strain and prebiotic to help promote a healthy balance of good bacteria.
How to Remove Tear Stains?
The best way to handle tear stains is to prevent them from staining in the first place. However, if your dog already has tear stains, there are a few steps you could take to help clean the stains. One method is to look into a dog tear stain removal products. There are many available, so shop with caution as some of these products can be quite pricey and have little to zero impact on removing your dog's tear stains. Another option is to try to wipe your dog's muzzle with a mild hydrogen peroxide mixture or Visine; however, you must avoid getting it into your dog's eyes when you apply it onto their fur. There are also many so-called natural home remedies on the web, such as using coconut oil to remove tear stains, but there is very little research to support these methods.
We hope that now with a better understand of tear stains, you can help prevent your dog from getting these stains in the first place or start taking proper hygiene measures to lighten and clean these stains.