4 Types of Dog Friendly Floors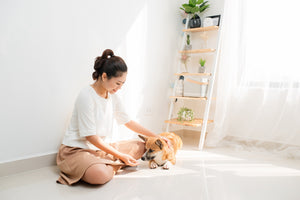 You may have never considered that the type of flooring you use can affect your dog. To help you consider the options available, read on to see four types of dog-friendly flooring you can consider for your home.
Engineered Hardwood Flooring
This type of flooring is durable and it is also affordable. This type of flooring is scratch, stain, & dent resistant. It is also available in various colors for you to choose from to match your home decor. In addition, because most dogs tend to shed a lot during certain times of the year, this type of flooring is very easy to clean with either a vacuum cleaner or mop.
Cork Flooring
This type of flooring is also quite easy to maintain and clean for those with dogs. Cork flooring has low levels of static electricity so your dog's hair as well as dirt from your shoes are less likely to stick to the floor.
Stone & Tile Flooring
This type of flooring is dog-friendly also because it easy to clean with a mop or vacuum. However, these types of flooring are a lot more slippery, so that is one aspect to keep note of. Stone flooring does not have a lot of gaps that could potentially be dangerous for your dog's paws. It is also less likely for scratch marks or missing chunks to appear.
Vinyl Flooring
This type of flooring is one of the most expensive types of flooring that are dog-friendly. These type of floors can be easily cleaned with a mop. Unlike carpets which easily trap in bugs, dirt, bacteria, and hair, vinyl floors are very easy to clean.
So if you're looking to change up your flooring and you happen to have a dog, do some additional research to see which type of flooring works best for your family, your dog, & your budget!


---
Also in Pet Care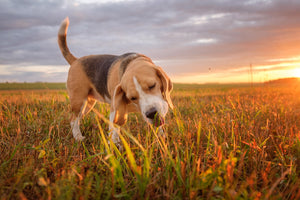 Dogs eating grass is a common behavior that has been observed in different breeds of dogs. This habit is often linked with different possibilities with little to major discomforts after consuming it. Therefore, understanding the reasons behind this behavior and knowing how to help 
your dog
 is crucial for 
dog parents
. Here are four possible reasons for grass eating: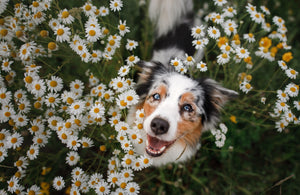 Spring is finally here, and as a dog owner, it's important to make sure your furry friend is ready for the season. With a little bit of effort, you can help your furry friend transition smoothly into the spring season. 
Here are seven dog care tips to keep in mind: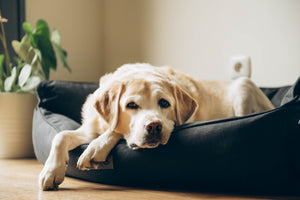 As a dog owner, it can be heartbreaking to watch your furry companion struggle with arthritis. Arthritis is a common condition in dogs, particularly as they age, and can cause pain, stiffness, and difficulty moving. However, with the right care and management, you can help your dog live a comfortable and happy life. Here are six ways to care for a dog with arthritis: