Create Homemade Dog Treats!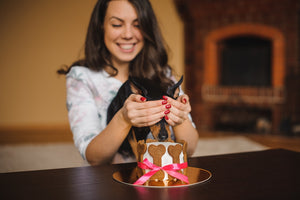 It's always nice to reward your dog with delicious treats. Homemade dog treats are even better since you can tailor your treats to what your dog likes to eat. For example if your dog likes blueberries, you can make him a treat that incorporates blueberries in it. You can also control the quality of the ingredients in the homemade dog treats! So win - win!
Ingredients for Dog Treats
Before you jump into making your own homemade dog treats, make sure to be aware of all the foods that your dog can't eat, such as raisins, chocolate, garlic, and most nuts. You can check with your vet for a list of foods dogs should avoid and that are deadly for them.
In addition to avoiding foods that dogs cannot eat, make sure to be aware of what your own dog cannot eat. If your dog has allergies, make sure to use only ingredients that are safe for your dog to eat and won't trigger an adverse reaction in your dog.
Now moving on to foods that are good for dogs. These foods include carrots, sweet potatoes, broccoli, and spinach. To make it easier to bake your own treats you can consider using a dog treat mix.
Baking Dog Treats
If you want to keep your dog treats fresh, you can produce them in smaller batches. Producing in smaller batches can also help you get a good idea as to whether your dog likes the treats and to avoid unnecessary waste. However, if you know your dog loves the treats already and want to save time, you can opt to make a huge batch at once. These treats can be stored for quite some time in the freezer.
Just like a freshly baked, right out of the oven chocolate chip cookie tastes so amazing, your dog can feel the love when you take the time to bake them a fresh batch of treats right out of the oven.
Store-Bought Treats
Of course there are many great treats for dogs that you can buy, just make sure you do the research and check the ingredients. Supplements are also a great way to boost your dog's overall wellness while rewarding them with a treat! Support your dog's digestive health with Petaxin's Daily Probiotic - these soft chews are deliciously infused with a chicken flavor that dogs love!