6 Common Dog Health Problems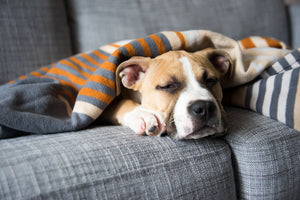 Although we do our best to take care of our dog and make sure they are okay, they may still get sick. Taking good care of your dog's health as well as periodic checkups at the vet can help decrease the risk of disease. Also, always keeping an eye out for the most common health issues can help make sure your dog gets the care it needs to quickly treat the issue. The following are six of the most common health problems for dogs to be aware of.


1. Skin Issues
Many dogs have a variety of skin related issues. Some of the typical signs of skin issues are itching and scratching. In addition, your dog's skin may appears red, inflamed, flaky, scaly, or looks abnormal. Allergies, parasites, and infections may be the cause of these skin problems. Once you notice any of these signs, make sure to contact your dog before the skin issue becomes worse & to help alleviate their discomfort.
 
2. Ear Infections
When your dog has an ear infection, you may notice ear discharge or a bad odor. It may cause your dog to frequently shake their heads and scratch at their ears. If left untreated, ear infections can cause serious health issues and can be extremely itchy or even painful for your dogs. At the first sign of ear infection, you should check in with your vet.

3. Vomiting
Although there are a number of reasons why your dog vomits and should not be something that you rush to the vet each time, it is also not a light condition. If a dog vomits, it could be a sign of gastrointestinal blockage and or other serious diseases. It could be simply a case of adjusting your pup's diet or implementing supplements to help strengthen their gut. However, if you dog keeps vomiting along with other symptoms such as diarrhea, then you should definitely take your dog to see your vet.

4. Diarrhea
One of the potential causes of diarrhea can also be linked to their diet. At times, it may be accompanied with the symptom of vomiting. If you notice your dog is suffering from constant diarrhea, please see a vet. Occasional diarrhea here and there is usually not too serious, however ongoing diarrhea can cause your dog to be dehydration and other health issues.

5. Parasites
One of the most common health issues for dogs are parasites. External parasites, such as fleas or ticks can plague your dogs with intense itchiness. There are ways to protect your dogs from parasites which you can check with your vet with. Search the web to learn more about parasites so that you are better able to protect your dog.

6. UTI
Yup, dogs can get urinary tract infections too. In fact, it's quite common. Sometimes owners mistake dogs peeing anywhere in the house as due to lack or proper training, however it may actually be due to a UTI. Some of the signs of UTI are inappropriate & frequent urination, bloody urine, lethargy, and more. These signs may also be associated with other health issues such as diabetes. If you begin to notice any of these symptoms, contact your vet and have your dog checked out as soon as possible.

Conclusion
Since dogs often sniff and chew on just about anything they find, they often are more susceptible to various health issues. If you suspect your pet is sick and has any of the symptoms mentioned above, it is best to contact your vet immediately to quickly help alleviate your pup's discomfort.