5 Tips to Make Your Home a Safer Place for Pets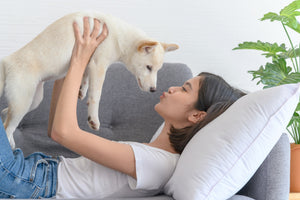 Before you plan to buy or adopt a dog, you must first make sure that your home is a safe environment for them. Here are a few important things to note as well as a few alterations you may need to make.
1. Avoid Rugs & Carpets
Flooring is an important factor to consider when getting a dog. Dogs tend to shed a lot of hair, depending on the season and dog type, so having the right type of flooring, such as hardwood floor or tiles, can make it easier for you to clean up after your dog. So if you do have rugs or carpets and you are able to, get rid of them before you bring your dog home. Rugs and carpets can easily trap bacteria and hair which can be unhealthy to both you and your dog.
2. Store Away Dangerous Items
When you have a dog around, you need to consider what items around the house are likely to be knocked over by your dog and store them away in a safe place. Make sure to store dangerous or fragile items in high places that are hard for them to reach, knock over, and open. You wouldn't want your furry friend getting hurt or accidentally licking something that is toxic. Make sure to take a note of any chemicals, glass, or medical related objects out of reach of your dogs.
3. Secure Your Wires
Check around your house to see if there are any wires as dogs tend to play with them or accidentally run into them. This can lead to other dangerous accidents and your dog could get hurt. Either that, you may end up very upset that one of your electrical appliances is not broken. So make sure to secure any wires you have lying around before bring your dog home.
4. Trash Cans
Your trash bin contains many unwanted objects such as old food, chemicals, and other gross stuff. At times, your dog may be curious and want to access your trash. They may knock it over and play with whatever is inside or eat what foods they find. This may be extremely harmful for your dog or may make your home a mess. So try to invest in trash cans with lids and have a sturdy base so that it won't be easily knocked over by your dog. If possible, try storing the trash can somewhere that your dog has no access to such as inside a cabinet or outside.
5. Installing Barriers
There may be certain areas in the house that you don't want your dog to access. Now is the time to start setting up barriers or little gates in your home to prevent them from accessing them. For example, some people don't want their dogs accessing the fridge or where their foods are stored so they add a small gate around the kitchen area.
Takeaway
Aside from these five pointers, try to keep your home clean for your dog. When doing so, make sure that the chemical you use for cleaning your home is safe for dogs so that they don't accidentally ingest them and get really sick. With these small changes, you're a step closer to making your home a safe & warm haven for your new furry addition.