4 Tips on Cleaning Up Dog Hair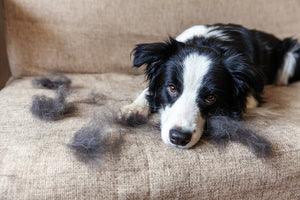 Let's face it. One of the most tedious tasks of raising a dog is cleaning up dog hair. Wherever your adorable dog goes, you can be sure that a part of him is left behind as a souvenir. Their hair just gets onto everything and anything! So here are a few tips on how you can clean up your dog hair with more ease!
1. Furniture Cover-Ups
It's impossible to throw your couch or other pieces of furniture into your washer machine, so why not consider covering up all your furniture with a blanket or some kind of cover? It's a lot simpler to take off a blanket and wash it in the washer machine. Granted, many people avoid this method because throwing a blanket or towel onto your chairs can look tacky and even ugly, however if you search in the right places, you may find stylish covers that may actually improve the overall look of your living room and make cleaning up your dog hair a lot simpler!
2. Use Duct Tape
Ever had the experience of getting to work and realizing that your black skirt is covered in dog hair? Well, you're in luck if you've got some tape laying around on your desk. There are also lint rollers for sale out there, however tape or duct tape does the job just as well so it's really up to you. The process is pretty simple, you just place the tape on all the parts of your clothing that has dog hair on it and strip it off. All the hair on the section you've place the tape on should easily come right off!
3. Vacuum
If you don't have one in the house, you should seriously consider investing in one. This will save you a lot of time and energy. Also for those that do have vacuums, it's important to know how to make the best use of this machine. Vacuuming the floor only in one direction, especially on carpets, may not be enough to remove all the dog hairs that are trapped inside. Make sure to cross over again from a different direction so that you can make sure you've collected most of the loose ends. In addition, make sure to regularly maintain (clean the filter, the crush roller, and belt) your vacuum as dog hair along with human hair can take a toll on your vacuum.
4. Regularly Groom Your Dog
You're thinking what does grooming my dog have to do with cleaning up their hair? Well, it can help prevent a bigger mess of dog hair piling up. When you take the time to regularly groom your dog, you'll be able to collect most of the hair that is shedding and easily dispose of it instead of allowing it to fall off your dog as they walk around the house. There are many brushes out there designed specifically to loosen and remove dog hair! This can save you a lot more time and trouble attempting to clean the dog hair from off the floors and furniture.