4 Simple Ways to Keep Your Dog Cool This Summer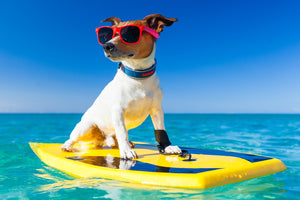 It's finally summer and for many of us we love to spend as much of it outdoors in the sun. However, the hot weather can make it hard to bear not just for us, but also for our furry friends. Here are five simple ways you can help keep your dog cool outdoors this summer season!
1. Provide Lots of Cool Water
Just like humans, our furry friends also need lots of water to stay hydrated this summer. A nice way to provide your dogs with refreshing, cold water is to freeze containers of water just for them! In this way, when you put the water outside for your dog, it can stay colder for longer periods of time. Make sure to also keep your dog's water somewhere well-shaded so that the water is not warm or too hot. You can also fill up a small wading pool where you dog can jump into and play to cool off. When you fill up the pool, make sure to check the water coming out of the hose as it can be hot if the hose has been out in the sun for awhile.
Don't have a kiddie pool lying around? Don't fret, if you got some sprinklers, turn them on for a bit so that your dog can get some exercise outdoors and stay cool. Got some time on your hand to take your dog out for a mini trip? Well why don't you bring your dog out to the lake or beach? These places are great for them to play outdoors while having a pool of water nearby for them to cool down if they need. However, if you notice your dog has heatstroke symptoms, make sure to take them to the vet immediately!
2. Keep Your Dog Shaded
The best source of shade for your dog are trees! They not only help shield your dog from the hot sun but they also allow a lot of air to flow through. Although you may have a dog house for your dog, it may not be cool enough as it is usually small and not well ventilated, which can end up being very hot and stuffy. If you don't have any shady trees in your yard, try to set up an umbrella or create some sort of shade for your dog.
3. Frozen Treats
We all love a delicious cold dessert during the summer. Why not make a frozen dessert for your dog? There are tons of easy frozen dog treats that you can make from home that dogs just love! Just make sure to count the calories of the treats in addition to the meals you give to your dog.
4. Pick a Cool Time to Walk Your Dog
Although you may feel fine, taking your dog to walk in the afternoon may not be as fun for your dog. During the summer seasons, the concrete or asphalt ground may be piping hot after being under the sun for several hours. That can burn the soft areas of your dog's paws. Make sure to always test the temperature of the ground on a hot day. Chances are, if you can't handle the heat after touching the ground with your bare hands and feet, it is also too hot for your dog.
Try to swap up when you take your dogs for their walks such as early in the morning or late in the evening when the weather is the coolest in the day. If you just can't seem to find the time early morning or late in the evening to walk your dog, drive your dog to a shady area for a walk, such as a shaded area of a park on the grass. Also, try to limit how much exercise your dog gets so that he doesn't overexert himself and get heatstroke. If you suspect your dog has signs of heatstroke, make sure to contact your vet immediately.
We hope these simple tips can help you keep your dog safe & cool this summer season!