4 Reasons Why Your Dog Smells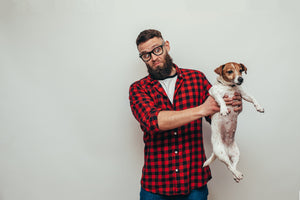 Do you think your dog smells? If your dog smells bad, there could be some underlying health issues and you may need to take your dog to see the vet. Of course, you can't expect your dog to smell absolutely fantastic, however they shouldn't smell so bad that you grimace every time you pass by your dog. Read on to learn four reasons why your dog may smell bad.
Is It Really Your Dog?
Before you start blaming your dog as the culprit for the smell that you've been noticing, have you checked around the house? It could be that your house and not your dog smells bad. So check around. Is there something in one of the trash bins that's gone bad for weeks and needs to be dumped? Got some laundry piled up for days? Has some food dropped off the table and begun to mold? All of these possible scenarios can also be the culprit for that stinky smell around the house.
Your Dog May Need Professional Grooming
Depending on each dog, giving your dog a good bath may not be enough. There may be other aspects of grooming you might have overlooked and needs professional assistance. Does your dog tend to have longer fur? Keeping your dogs fur trimmed and short can help reduce body odor. Also, make sure to take time to cut their nails as a lot of bacteria can become trapped underneath that could cause your dog to smell.
Your Dog May Have Dental Issues
If you feel like you're doing a great job grooming your dog then it could be your dog's dental hygiene. Bad breath can be caused by many underlying health issues. Do you often brush your dog's teeth? Like humans, food trapped in your dog's teeth can cause bacteria to buildup which could cause your dog's breath to stink. So try to brushing your dog's teeth daily if possible and schedule regular dental checkups. You can also try Petaxin Daily Probiotics which help fight germs and bacteria in the digestive tract of your dog to help reduce problems such as bad breath.
Your Dog Could Have Food Allergies
Some foods may cause your dog to let off more gas than usual. Although it's natural for dogs to have the occasion upset stomach and pass off gas, if this becomes a daily pattern & the smell is extremely foul, then perhaps your dog is allergic or has an intolerance to a certain food you're feeding him. You may need to check with your vet and do an allergy test to determine the cause.
---
Also in Pet Care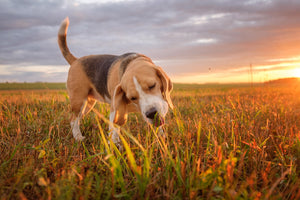 Dogs eating grass is a common behavior that has been observed in different breeds of dogs. This habit is often linked with different possibilities with little to major discomforts after consuming it. Therefore, understanding the reasons behind this behavior and knowing how to help 
your dog
 is crucial for 
dog parents
. Here are four possible reasons for grass eating: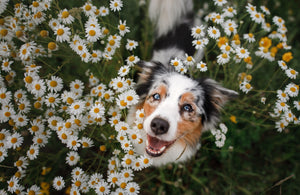 Spring is finally here, and as a dog owner, it's important to make sure your furry friend is ready for the season. With a little bit of effort, you can help your furry friend transition smoothly into the spring season. 
Here are seven dog care tips to keep in mind: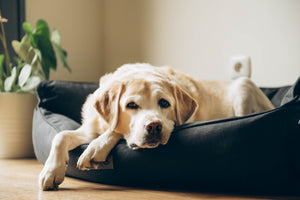 As a dog owner, it can be heartbreaking to watch your furry companion struggle with arthritis. Arthritis is a common condition in dogs, particularly as they age, and can cause pain, stiffness, and difficulty moving. However, with the right care and management, you can help your dog live a comfortable and happy life. Here are six ways to care for a dog with arthritis: