3 Simple Steps for Silky Smooth Fur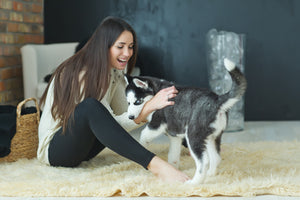 Various factors can affect your pup's fur - from their lifestyle to what they eat. Maintaining your dog's coat is essential as it not only makes them look nice, but it is also an indicator of your dog's overall health. Let's take a look a 3 simple ways to help your fur buddy attain a healthier coat and overall health!
1. Diet
One of the main cause for dull, lack-luster coat is in the food you give to your dog. It could be an indicator that they are missing something in their daily diet, such as certain vitamins or proteins. So how can you check? The first vital step is to check with your vet to see if your pup is getting the nutrients he needs and, if not, what should be added in to their daily diet. Sometimes, it is as simple as just adding a healthy treat to their usual diet. Other dog moms and dads even cook their dog's foods to ensure that their dog is getting nothing but the very best. Once you've implemented the necessary changes to your dog's diet, your dog is on the road to shinier, healthier fur!
2. Supplements
In some cases, like humans, your pup may have the best diet, but their body fails to properly absorb the nutrients it needs for a healthy coat. That's why many dog owners turn to supplements to help provide the necessary vitamin or boost your dog needs to improve the quality of their coat as well as other aspects of their overall health. One great supplement to add into your dog's daily diet is omega 3s. I highly recommend trying out Petaxin Omega Care.
Because dogs can't produce omega-3s on their own, adding Petaxin Omega Care to their diet is the ideal way to support your pup's skin health. It contains essentials vitamins and minerals, such as fish and krill oil that help reduce symptoms of dry/itchy skin, minimize hot spots, and help your dog's coat shine. It also contains Biotin and Zinc which can help reduce shedding and improve skin & coat health of your pup.
3. Proper Grooming
As humans, if we don't regularly trim or brush our hair, it can have split ends, become tangled, and look dull. Similarly, the next main step to helping your dog achieve shiny, smooth fur is to groom your dog! When you skip out on this step, it's no wonder their coat would look gross and dull. Give your dog periodic haircuts so that new soft fur can grow out. Frequently brushing & bathing your dog can also help brush out old hair, get rid of tangles, & keep your dog smelling good!